How to use Facebook Business Manager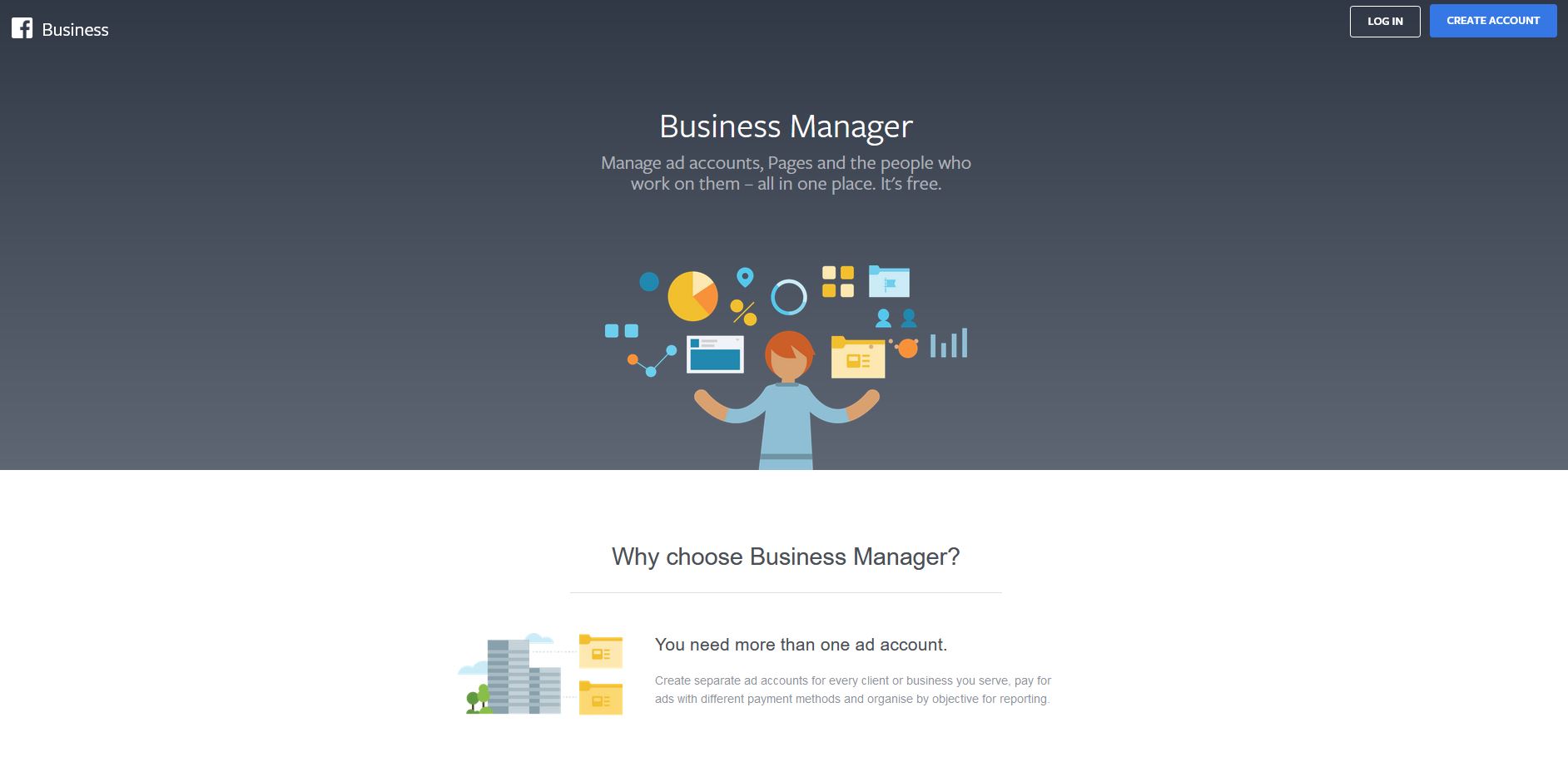 Learning how to use Facebook Business Manager is crucial for the long term success to generate leads for your small to medium-sized business on the platform.
Unfortunately, we find that many of our clients see the new Business Manager as intimidating or too complicated. But this couldn't be further from the truth, and in this Facebook Business Manager guide, we'll break down everything you need to know.
But before we begin, let's discuss what  Business Manager is and its benefits.
What is Facebook Business Manager?
To put it in the simplest terms, Facebook Business Manager is a tool within the Facebook platform that allows you to manage multiple Facebook Pages, ad accounts, product catalogues, and Instagram accounts all in one place. 
Inside Facebook Business Manager, you can also delegate roles to employees and keep it under one roof rather than having multiple personal profiles.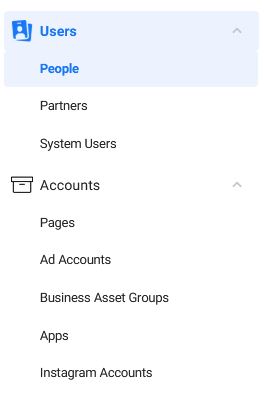 Learn How to Use Facebook Business Manager
Now we've established what Business Manager is, let's begin learning how to use it.
But first, let's set it up, this link will open up in a new window and you can follow the instructions below – https://business.facebook.com/ 
Step 1: Set up your Business Manager Account
If you're reading this, and you haven't set up a Facebook business page, then go ahead and pause where you're at and set it up. 
If you've already set up your Facebook business page, follow this link to Facebook Business Manager and create your account.
Follow the steps and fill out all the information until you get to the "Submit" button. You'll receive a confirmation email where you'll click "Confirm Now", and now you're all set up on Facebook Business Manager.
Step 2: Link your Facebook Pages
Now that you're set-up, the next step of learning Business Manager is to link all the Facebook and Instagram pages that you're managing. To do this, you can either click "Add Page" or "Create Page".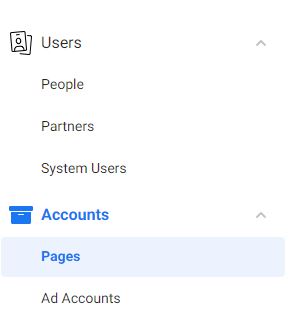 More than likely, you will be adding an existing page, so you will click "Add Page", type in the page name URL, and if you're already an Admin of the page, Facebook will instantly approve the request.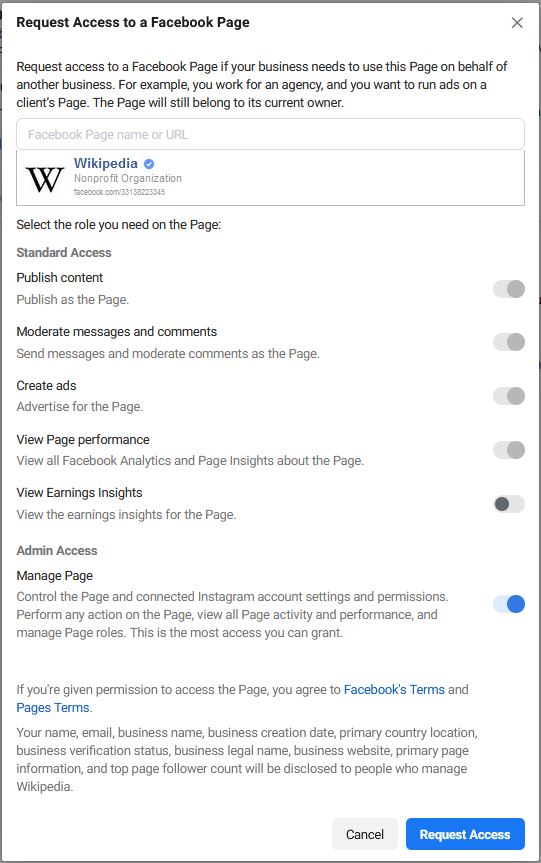 As a small to medium-sized business, you may only have your Facebook page and your Instagram page. However, some companies might have a few locations with individual pages they wish to link into one Facebook Business Manager.
Now you've got all your pages in one place, and you can manage all your posts and analyse all your metrics, a vital component to any digital marketing strategy.
Step 3: Link your Ad Account
If you want to run your Facebook Advertising through Business Manager, you need to link your ad accounts there.
 If you're not sure about running ads on Facebook, then check out our overview of Facebook Ads. 
To link up your ad account to your Business Manager, click "Add Ad Account", and then enter your account ID, If you own the account or you're an admin, you'll automatically be approved, just like with adding pages.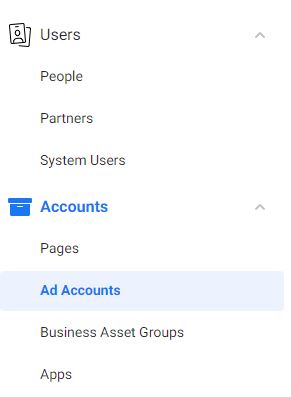 You also will have the option to create a new ad account if you don't have one set up.
Click – Create a New Account here: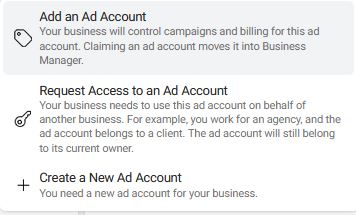 The it will open the window below and follow the instructions: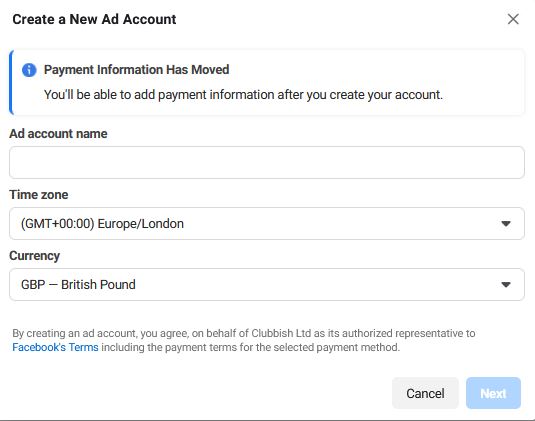 Step 4: Add users to your Facebook Business Manager
Since the most valuable part of Facebook Business Manager is managing your pages in one place, learning how to add people to your Facebook Business manager is vital. 
Under Business settings, you'll find "People", and then you will need to click "Add". Now you will enter the email of the people you want to work in your manager account. You can assign their roles at this point too. 
You can either assign people "Employee Access" or "Admin Access". Admin has full control over the Business Manager. They can edit settings, people, accounts and tools. Employee Access can only work on the specific accounts and tools they are assigned to by the Admins.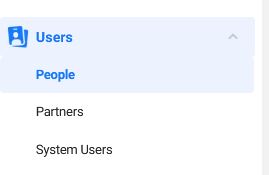 When adding a consultant or agency to a page, ad account or as an admin, add them as a partner just request their partner ID number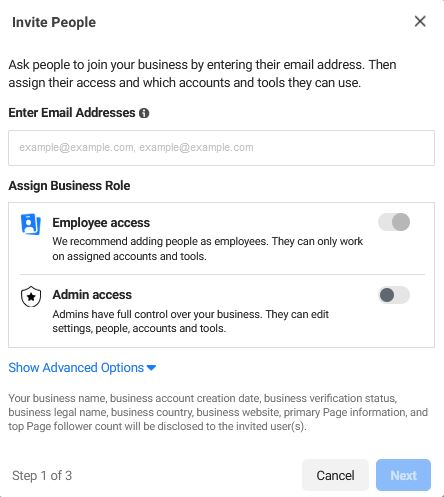 After You've Set Up Facebook Business Manager
Now that you've set up a Manager account, let's discuss what you can do inside it. 
 1.Manage it all under one roof
As we've mentioned a few times, Business Manager's key benefit has one place to manage all your Facebook assets. 
This feature allows for seamless management over organic content and paid advertisements. You can also analyse all your metrics against each other, which is pivotal for determining your investment return.
Since it is all under one roof, you can also control access by revoking employees that have departed from the company without the risk of the work being on personal profiles.
2.Double down on security 
In the age of the internet, security is crucial. Business Manager provides additional padding of protection for your business assets. In the "Security Centre", you can set up two-factor authentication to protect all your assets. 
3. Set up Facebook Pixels
To

generate effective leads on Facebook

, setting up your Facebook Pixel is crucial.  

Your Facebook Pixel allows you to collect information for specific targeting strategies.  

To set up your Pixel, go into Business Settings, next "Data Sources", and then find "Pixels".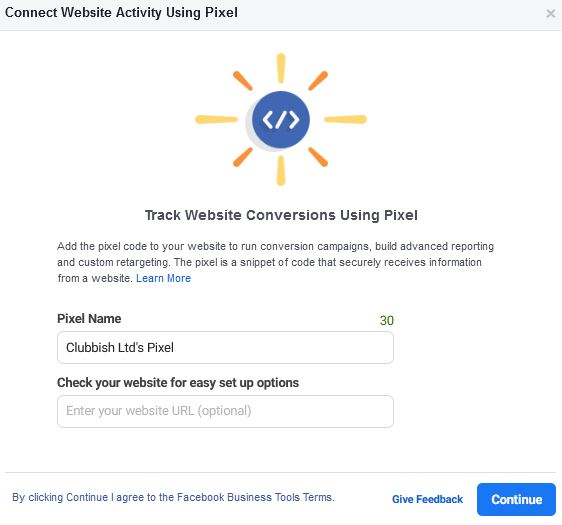 4. Set up Locations using Business Manager
Since many small to medium sized businesses have a few locations, some might have multiple Facebook pages for each location. 
However, Business Manager offers an alternative. You can set up multiple locations for your business, which allows your customers to find the most relevant store through Facebook's search engines. 
 To set this up, you will click the "Business Manager" button, then find "Assets" and then select "Shop Locations". Then you will click "Add Stores" and next click "Add Manually" to fill out the details about each location.
Under "Assets" you can also add all your catalogues if you sell products, you can manage audiences, and upload any branded media as well.
Now You Can Use Business Manager
Now that you've set up and learned to use Business Manager, the (Facebook) world is your playground to test the platform and business manager's tools. 
Need help with your Facebook Ads Strategy?
If you're not getting the results you expect from your Facebook Ads Strategy or can't achieve profitable ROAS, speak to our PPC Social team by calling 0121 231 015 or click here to Get A Quote and we'll call you.