With over 2.7 billion monthly users, having a Facebook presence for your business is a huge plus. But first, you will have to know how to create a Facebook business account, where you can manage your page. If you already own a personal account, you will have to set up your business page there as Facebook prohibits multiple account creation.
Read on to find out how to create a Facebook business account for your company.
How to Create a Facebook Business Account
Creating a Facebook business account is straightforward. All you have to do is:
What Is a Business Manager and Why Do You Need It?
For small businesses, it's possible to manage your Facebook pages through a personal account. On the other hand, if you're working with a team, you'll need a Facebook Business Manager to manage your marketing strategies in one place and share assets across your group, partner agencies and vendors. Furthermore, this is a more secure way of running your pages and ad accounts.
Below are some of the things this tool enables you to do:
Create and manage multiple assets
Such assets will include Facebook pages, Instagram accounts and audience lists.
Control user access and permissions
You can limit user access and permissions for those working on ad accounts, pages and apps.
Track your ads
Efficiently track your ads on Facebook and Instagram with easy overviews and detailed updates of your spending and impressions.
How to Add Assets and Assign Permissions Using Facebook Business Manager
Head to settings and click People under People and Assets
Assign authorised agents to ad accounts and pages
Go to business settings to add associated Instagram accounts
Add at least two business manager admins and the rest as business manager employees
Head to pages to connect your Facebook page. You will be instantly approved if you're a page admin. If not, you will need approval from the current admin
Go to Ad accounts to add a new ad account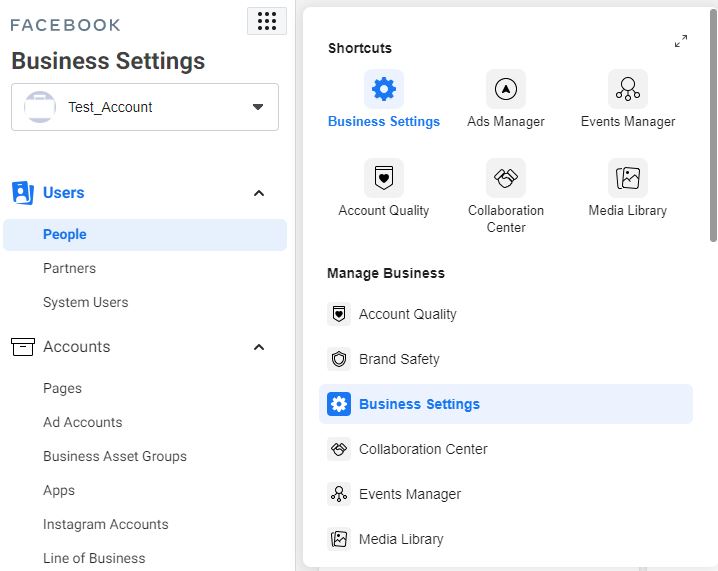 Assigning Access Levels Across Your Team
The most exciting part of having a business manager is that you can give permissions to your team members or people who may act on behalf of your business. This way, you will have better control of your assets and information.
There are two layers of permissions within the business manager:
Layer 1
Business admins and employees
Business admins have access and control over all aspects of the business manager. They can add/remove people from the employee list and modify or delete the business. On the other hand, business employees can only access business information but can't make any changes.
Layer 2
This layer includes roles across pages and other assets.
Pages
These are assets controlled by the business they represent. Although managed by one business manager, multiple partners or individual accounts can access, post and buy ads.
Ad accounts
These are important as they allow your business to purchase advertising on linked pages or apps. Each account should have an associated payment method and a person responsible for handling purchases.
Apps
Apps can be claimed, owned and shared with business manager partners with access to the app settings. App IDs, found in the business manager, are vital in identifying people who have downloaded business apps.
Pixels
Pixels enable you to assign partnership to anyone managing your ads for you. Each business manager can create up to five pixels, which they can then share with chosen partners.
Audiences
You may allow other people to access the audiences you've created for your ads by sharing audiences.