SEO for WordPress – the Definitive Guide
SEO for WordPress – the definitive guide – are you interested in increasing the number of visitors to your WordPress website? This post will demonstrate some immediate steps you can take to boost your WordPress SEO today. Additionally, we'll discuss the value of WordPress SEO and delve into some long-term WordPress SEO strategies.

Why Is SEO for WordPress, Or any website for that matter important?
Prioritising SEO is the most effective method of generating website traffic for your WordPress site without paying for advertisements. Apart from being prohibitively expensive, advertisements often produce short-term results. Your traffic reduces immediately upon ceasing to run the adverts. However, with a sound WordPress SEO plan in place, your traffic will continue to expand rapidly over time with little to no financial input necessary.
Consider how people behave online—they rarely navigate directly to a website unless they're seeking something specific. 93% of all internet interactions begin with a generic search on a search engine such as Google, Bing, or Yahoo. Additionally, the first page of SERPs accounts for 75% of all clicks. As a result, there is a low possibility that you will receive organic traffic if your website is not among the top results for a specific search.
Without that traffic, you're unable to produce leads or conversion and will have a detrimental effect on your business and revenue. A well-executed WordPress SEO plan positions your website as the market leader in a specific industry, niche, or area of search results. It's a cost-effective method of increasing visitors to your website, with a great return on investment.
Even when your conversion rates remain constant, consider the additional revenue you could earn if you doubled, tripled, or quadrupled your site traffic. What would happen if you were to tenfold your website's traffic? All of this is attainable by using an effective WordPress SEO approach. Numerous websites in a variety of industries have benefited from WordPress SEO, see the example below: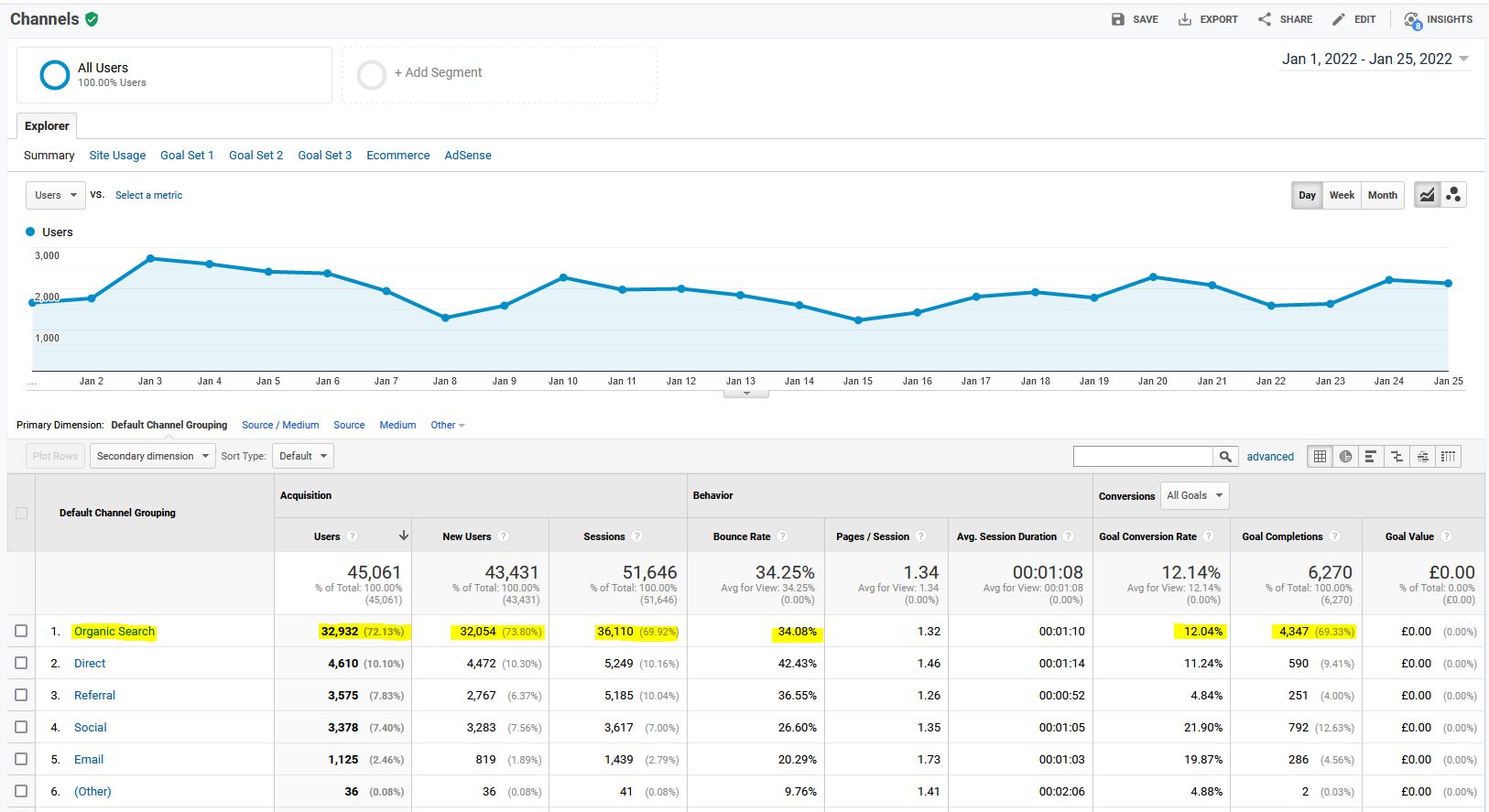 SEO Tips to Improve Your WordPress Site Today
While SEO is a long-term strategy, there are some steps you can take right away to improve your rankings. Even if you're a complete newbie, these instructions are simple to follow.
Get the Fundamentals of WordPress SEO Right
WordPress is a reasonably well-optimised content management system out of the box. A simple setup can give a solid base without substantial customisation, theme optimisation, or plugins. With that, you ought to put in the work to improve your ranking chances, streamline your workflow, and ensure your website is fully optimised.
By implementing the proper fundamental settings and employing a few easy approaches, you are assured of a solid foundation upon which to grow.
Examine the SEO Health of Your Website
Before you make any modifications to your site, it's a good idea to assess your current state. There are numerous benefits to getting it right: hosting on a server with up-to-date software and using a web host that provides exceptional performance. Therefore, consider the following: Are your websites running on the latest and greatest in terms of hardware and software? What is the nature of your hosting arrangement? Are you using a low-cost shared hosting provider or a dedicated hosting plan with a reputable web host that has optimised its servers for usage with WordPress?
Visit the WordPress Site Health section to discover more about what's going on in the background of your site. Also, you can add the Health Check plugin. It provides a wealth of technical insights and enables you to gather data that third parties can utilise to assist you in improving your site. Eventually, the Health Check plugin's functions will be integrated into WordPress core.
Examine Your Site's SEO Configuration
It's worthwhile to spend some time clicking through each part of the WordPress Settings menu since many of the choices there can affect your WordPress site's SEO. Check your visibility options under Settings, "Reading," to ensure you aren't preventing your website from being crawled by the search engine. That would undoubtedly limit your exposure. It is crucial to examine the configurations of your default categories and homepage, as they are influenced by your reading and writing preferences. Don't forget to include a strong tagline for your site in the Settings General section as well!
Choose the Appropriate Permalink Structure
Your permalink settings have a huge impact in terms of SEO as they dictate your page's and URL format. Changing these settings, available under Settings, "Permalinks," should be among the first things you do when creating a new website.
If you do not alter your default settings, all your sites will have URLs similar to example.com/?p=123. While this is acceptable, it is unattractive and may affect how consumers and search engines evaluate your sites' relevance and quality. By altering the permalink structure of your website, you can change the components, ordering, and format of the URLs. It is crucial to adopt the correct format when developing your website, as altering it later can result in SEO troubles.
Improve the Quality of Your SEO Content
Your website should have the best material possible on the subject you've chosen — period. Individuals are looking for enticing, authoritative articles and dependable responses to their questions. The first step in making great content for your site is to develop your unique thoughts or ideas about a particular subject. However, it also entails presenting these concepts in an organised and comprehensible manner. Together, these strategies will assist you in attracting and engaging the audience you seek.
Conduct SEO Keyword Research to Identify Target Keywords and Featured Snippets
Before composing your content, consider the SEO search terms for which you wish to be found. Then, optimise each website or blog for a particular keyword. How do you devise a keyword for which you'd like to rank highly in search results? This requires conducting keyword research. Throughout this procedure, you should ask yourself the following questions: For which terms do I wish to rank? How likely am I to rank for these terms?
Your experience enables you to develop content that surpasses the competition. You can delve further than others or throw light on alternative perspectives on the same subject. This requires concentration on long-tail keyphrases as this type is more specialised and thus easier to rank. Also, it will be more appropriate for your specialised issue.
Additionally, it's critical to consider what your audience hopes to accomplish by looking for a particular term. This is referred to as search intent. For instance, they may be seeking an answer to a specific question or wish to purchase an item that you offer. Consider your visitors' needs and cater to them appropriately through content creation.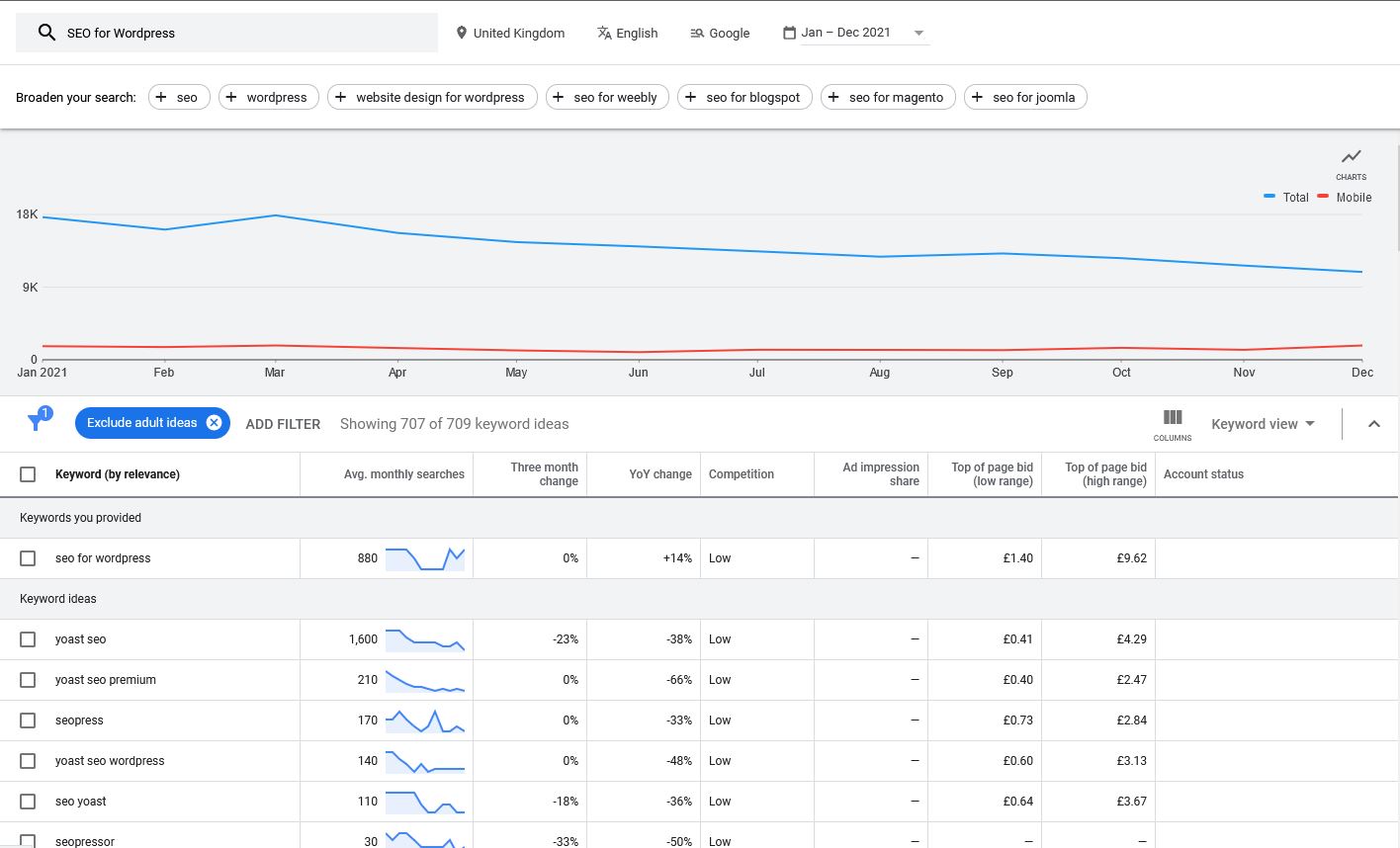 Produce High-Quality Content for Your Clients
Writing is the next step after completing keyword research and settling on the subject matter for your articles. To progress from a concept to a terrific piece of content, you'll almost certainly need to cycle through a couple of drafts, edits and rewrites.
Your initial draft can be a framework outline. You are not obliged to write flawlessly; nonetheless, you must follow a logical pattern. The majority of essays will begin with an introduction, followed by your primary areas of contention and a conclusion. Naturally, this varies with the genre – a recipe may have an entirely different structure.
You can expand on the points during the writing phase, during which you attempt to create a first comprehensive version of your content. Finally, throughout the editing phase, you should determine whether your content is compelling and easy to read. While you could have authority on the subject matter, your audience is unlikely to be (yet). Therefore, strive to make every word count when it comes to readability.
When in doubt, it's always advisable to solicit an opinion from a friend or coworker. Another advantageous technique is to read your writing aloud to yourself. You may even have your computer read it aloud for you. It will help you determine whether or not everything runs smoothly.
Optimise Each of Your Posts and Pages
When creating or updating your piece, you should pay special attention to particular components to ensure that it is search engine optimised. Subheadings, titles, and meta descriptions are among the few aspects that need to be in sync with the post's overall concept.
Remember, SEO-friendly does not simply mean that a search engine can determine the topic of a website. More importantly, this implies that your viewers can quickly grasp the core of your content. Your meta description and title could be the deciding factor in whether or not a searcher clicks on your page. And once they've arrived at your site, elements such as subheadings might be essential in determining whether or not visitors want to stay.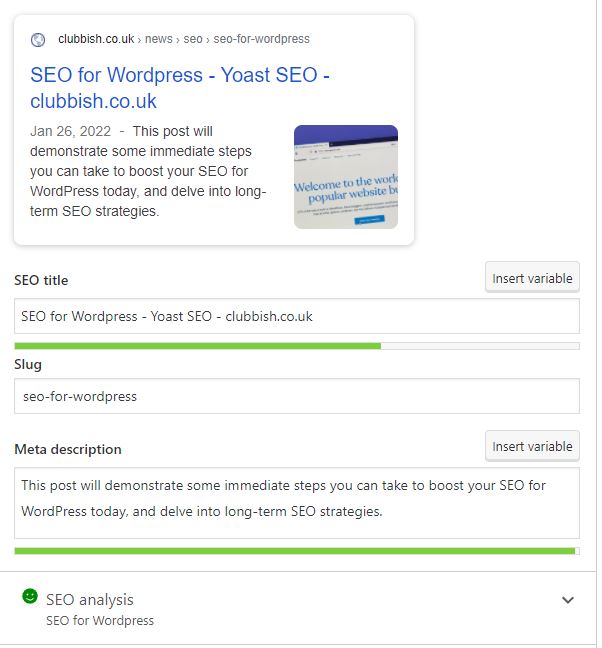 Optimise the Structure of Your Website
A well-structured website aids both users and search engines in navigating your site. Additionally, it will highlight the most crucial pages on your website. A strong site structure is built on two pillars: organisation and contextual internal connecting.
Organise Your Web Page
Creating a logical path to specific posts and pages from your homepage can help you organise your site. You can bring order to an otherwise chaotic situation by adding categories and subcategories.
Maintain a user-friendly homepage at all times. The user's experience is hampered when the homepage is cluttered with too many options. By including a menu and breadcrumbs, you can assist your user in navigating your site regardless of their location.
Adjust Your Breadcrumbs' Configuration
Breadcrumbs are certainly something you'll want to include in your articles and pages. Breadcrumbs are links that often appear above the title post and resemble something like "Home > SEO blog > WordPress SEO." Breadcrumbs are beneficial for two reasons:
> They enable users to traverse your site with ease
> They help search engines better understand the structure of your website
These breadcrumbs should point to the section in which the content is located. If the post falls into more than one category, it should choose one.
Boost Your Website's Loading Speed
If your web page is too slow, you risk irritating your visitors. Because of this, individuals are less likely to engage, browse, convert, or return. In turn, they're less likely to share your content, connect to your website, or advocate your company's products or services. In a nutshell, WordPress SEO and the overall user experience rely heavily on site speed. That means it's vital to monitor and adjust your performance – much more so for users on mobile devices or with slower connections!
Google's Page Experience update puts page performance and user experience back in the spotlight. Providing exceptional performance will become increasingly vital as time passes.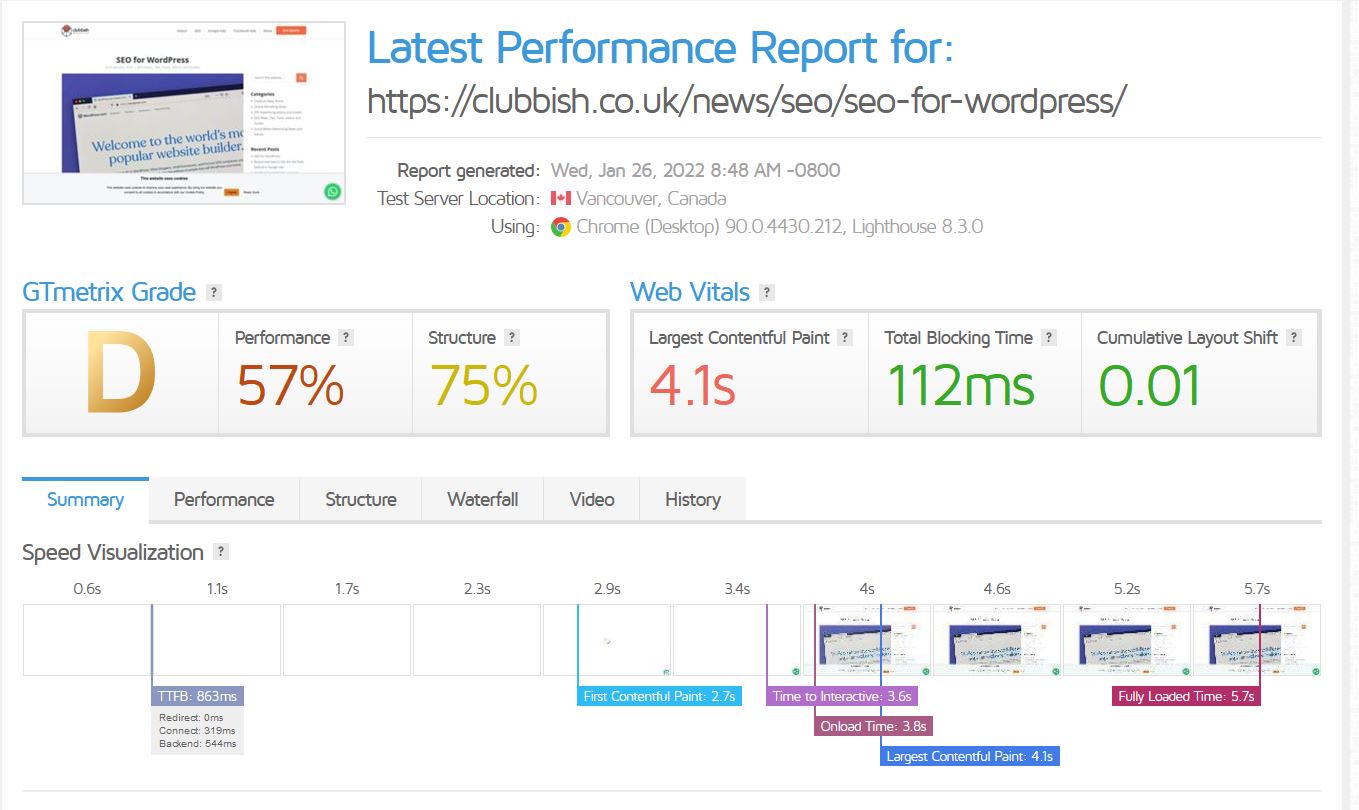 Make Your Website More Secure
WordPress is the most widely used website management software on the planet. It powers nearly 42% of the web. While this is fantastic, it also implies that it is the most frequently hacked platform. You can take steps to make your WordPress website more secure even though the platform takes care of the basic security for you.
Changing the default login credentials is the first step in this process. Otherwise, a hacker's initial guess for your login is just too straightforward. Additionally, WordPress has various plugins that simplify the integration of two-factor authentication into your website. Carry it out.
Optimise Your Website for Mobile
By taking a look around, you'll find that our mobile devices have evolved into the de facto method of online browsing, even when we're at home relaxing. However, we do not access mobile websites; we access websites. Consider your desktop and mobile websites as one entity. As a website owner, you owe it to your visitors to cater to their needs.
Statistics from Statcounter show that in 2018, mobile devices' market share nearly surpassed that of desktops. This means that optimising only for desktop users will exclude the vast majority of your traffic. Naturally, this will change based on your speciality, as these figures may vary. Google Analytics can provide you with precise site statistics.
Your mobile website cannot be deemed an 'additional' with this kind of market share. Mobile SEO is becoming necessary.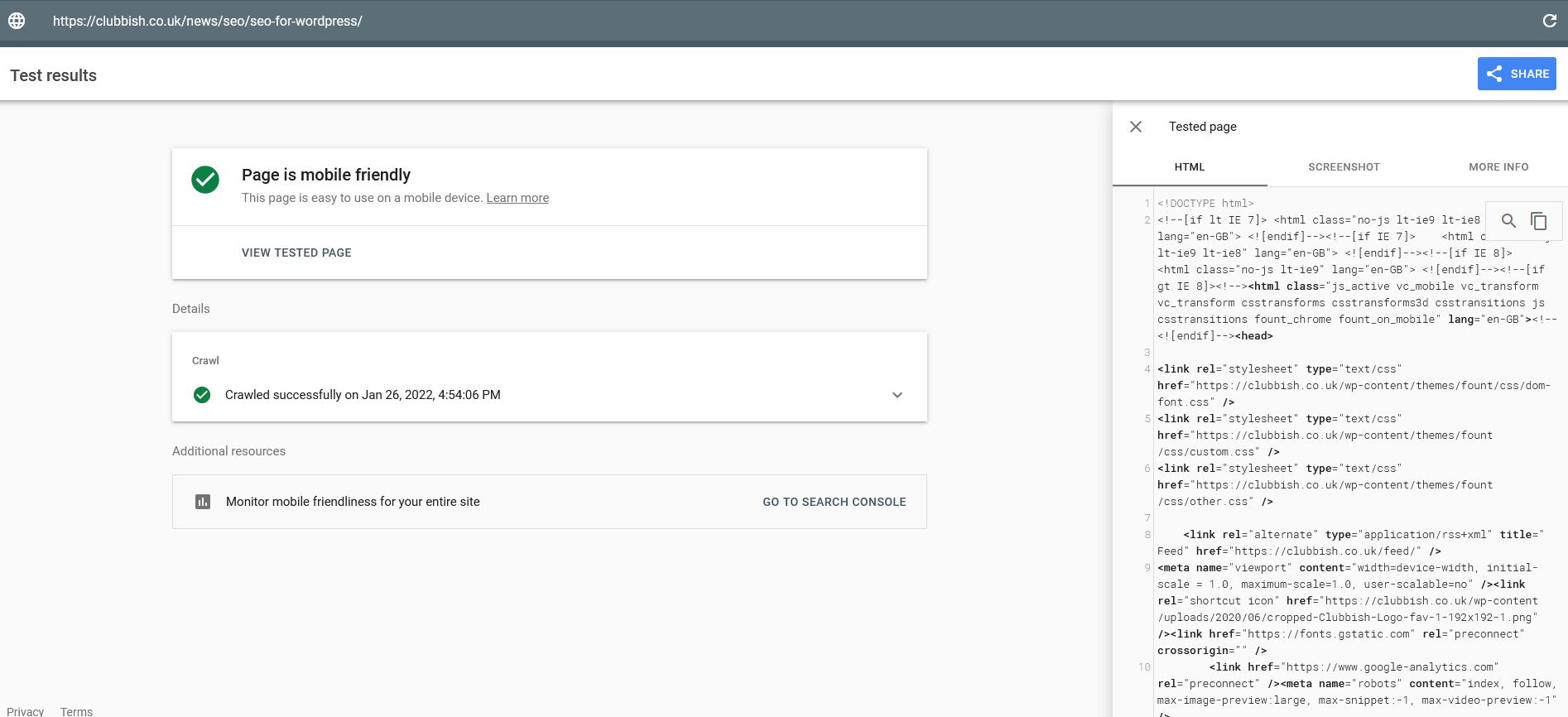 Conduct an Analysis of Your Performance and Make any Adjustments
A good SEO campaign is built on implementing changes, measuring their impact, finding and reproducing what works. Google has created two incredible tools for analysing your website's performance and identifying new areas for future focus.
The first is Google Analytics; used to analyse results. All user data is securely stored in your personal Google account by incorporating Google Analytics into your website. You may monitor the number of visits your pages receive, the percentage of visitors who convert, and the percentage of visitors who instantly close your website, among other things. With Google Analytics, you can keep tabs on how people are using your website.
The second tool, Google Search Console, is intended to analyse your website's performance and how people discover you through search engines. By exporting and analysing your search query and impression data, it's simple to identify areas for improvement in clickthrough rates, content and ranks.
Promote Your Site
You devote much time and attention to the content of your website and ensure that it is easily accessible to users through search engines, courtesy of SEO. However, there are more strategies for attracting visitors to your WordPress site and encouraging them to go through your posts. How can you acquire and grow a following? Simply generating articles and distributing them will not suffice: you must actively advertise your site!
Your target audience is almost guaranteed to be active on their preferred social media channels. What better method to connect with them than through social media promotion? Obtaining influencers to promote your brand on social media will assist significantly. All that is required are cordial outreach efforts. Additionally, encourage your readers to spread the word about your material via social media. It contributes to SEO optimisation.
We've explored in great detail what search engine optimisation for WordPress is all about in this blog. We took it a step further by describing a few strategies for increasing your website's search engine ranking. Of course, you'll have to put in the work. However, with effort, a little adjusting, and a dash of luck, your website will quickly begin ranking.
Need help with your WordPress SEO strategy?
If you're not getting the results you expect from your WordPress SEO strategy or can't achieve profitable ROAS, speak to our SEO team by calling 0121 231 015 or fill in a form on the website requesting a Book a Free Phone Consultation or SEO Audit.