Modified Broad Match Has Gone Away: What You Need to Know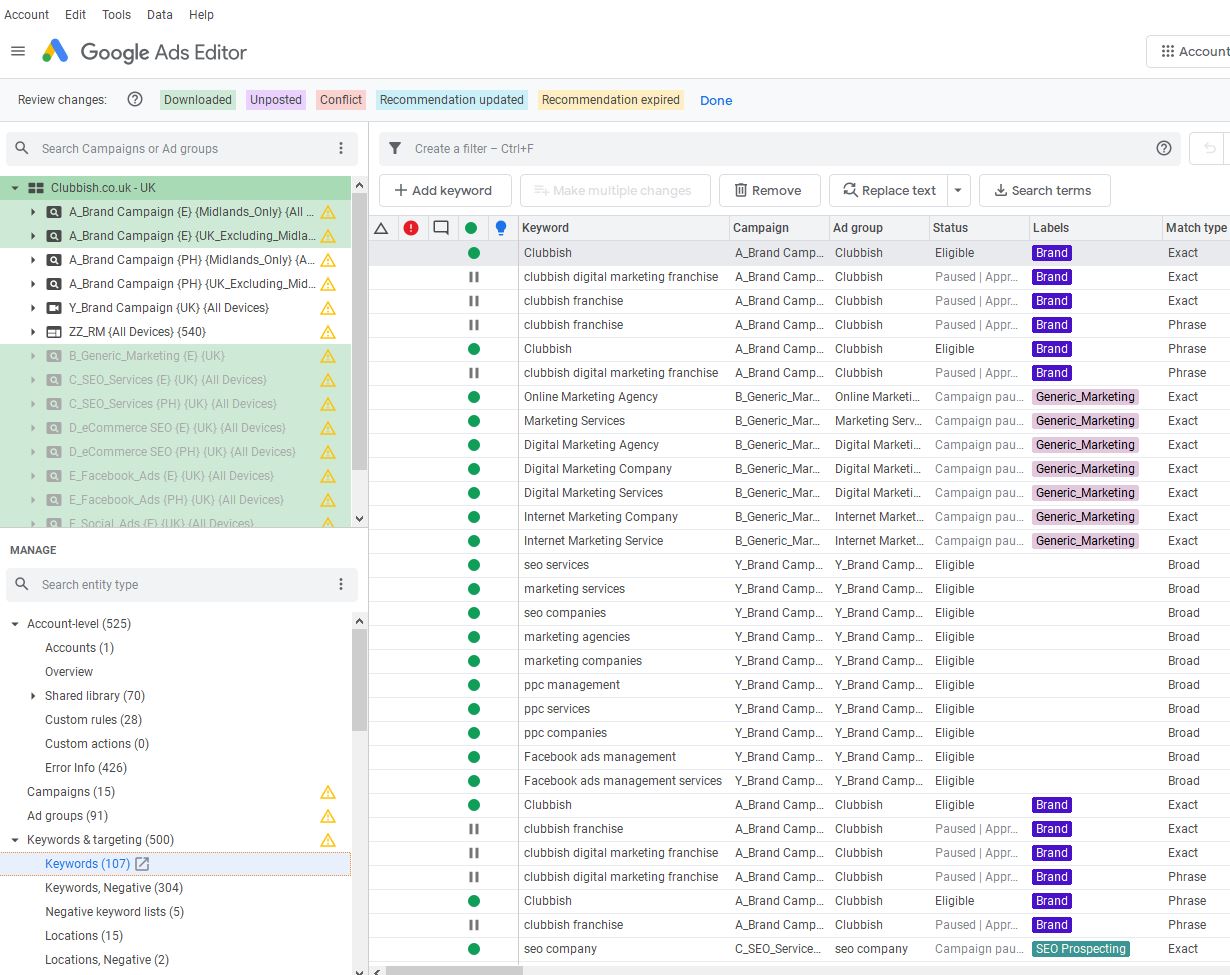 Google has announced that it would phase out the modified broad match in February 2021, and that phrase match will now include broad match modifier (BMM) queries, but with specific modifications. When Google makes a change of this magnitude, the most frequently asked question is, "How does this affect our keyword strategy?"
As is often the case, there is some good news and some bad news in this instance. What is the good news? Alternatively, you can use phrase matches to target broad keywords. BMM keywords, on the other hand, will no longer be associated with long-tail searches. In essence, phrase match will consider both the keywords and their sequence.
Due to the ambiguity of this shift, there are no clear-cut guidelines for navigating or even preparing for it. In this instance, we'll have to wait and see what transpires.
This is a list of our recommendations about what to do next.
Look At the Recommendations
Keep a watch out for Google's recommendations, especially the ones to add new terms and eliminate the duplicate keywords. Due to the changes in what a phrase match keyword can capture, you may want to explore adding other keywords to broaden your reach. Furthermore, since broad keywords and phrase match keywords are now picking up the same traffic, you may end up with more duplicate keywords in your account due to this change. This is especially useful if you're bidding on similar keywords but using different match types.
Revisit Your Account Structure
The modifications to the modified broad and term matches will affect the volume of traffic that comes in and, consequently, your expenditure. For modified broad keywords, traffic will be lower than in the past, but keywords on a phrase will most likely see an increase in traffic. Keep a close check on your spending and make adjustments as needed. Accounts that organise their campaigns or ad groups according to match types will find this to be especially useful. They will almost certainly want to devote more budget to ads that include more phrase match keywords than they would to campaigns that include modified broad keywords. Because traffic will fluctuate, it is critical to monitor these variations and make necessary modifications.
Maintain Your Negative Keyword Strategy to Weed Out Bad Traffic
While phrase match will continue to prioritise intent when it comes to search traffic, it will be critical to continue using negative keywords to remove unwanted matches. To get the most out of phrase match keywords, we must regularly assess keywords and add negatives to our account. It's important to note that phrase match negative keywords will not change.
Keep Abreast Of the Latest Updates
Because this is a new experience for all of us, we'll need to work together to watch each account's progress. Keep an eye out for what other advertisers have to say about the changes and document what you notice in your account so that you can aid others.
Get Familiar with Automated Bidding
Recently, Google has been attempting to improve the wide range of matches it provides. One of these is a broad match. For the first time, broad matching will use additional signals to give more relevant results. If you're worried about your account's volume dwindling due to these new adjustments, you can try using broad match keywords with smart bidding to find new ways to optimise your account's performance. Avoid duplicating your broad keyword search traffic with other ad groups or campaigns.
Conclusion
As previously stated, the true impact of sunsetting modified broad match types will become more apparent once the new logic is implemented. Meanwhile, review your match types and account structure, explore Recommendations, continue to employ negative keywords, and acquaint yourself with automatic bidding if you haven't previously.
Need help with your Google Ads strategy?
If you're not getting the results you expect from your Google Ads strategy or can't achieve profitable ROAS, speak to our PPC team by calling 0121 231 015 or fill in a form on the website requesting a free consultation.