How to Use Googles URL Builder to Track Your Campaigns
In digital marketing, you want to track as many campaign details as possible. You will need this data to tell which campaigns are working and which are failing. Use Googles URL builder to track your campaigns Google Analytics, you can track how different channels generated traffic (e.g., newsletter, Facebook, Twitter). The only problem with this is that it doesn't give you the complete picture. It doesn't specify the source of the traffic generated. Luckily, Google's URL Builder allows you to track each marketing effort separately in Google Analytics. By adding a tracking code to a URL, you can track visits coming from each specific link.
URL campaign tracking is crucial in paid advertising. If you're spending money, you need to know which campaign is yielding the best results. Here's a quick run on how to use Googles URL Builder to track your campaigns:
How to Use Googles URL Builder to Track Your Campaigns
Step 1: Load up the Google URL Builder tool and enter the link you wish to track
This should be the link you want to use to take visitors to your site.

Step 2: Add the parameters you want to track
Here, you'll see five fields to fill, but only four are compulsory.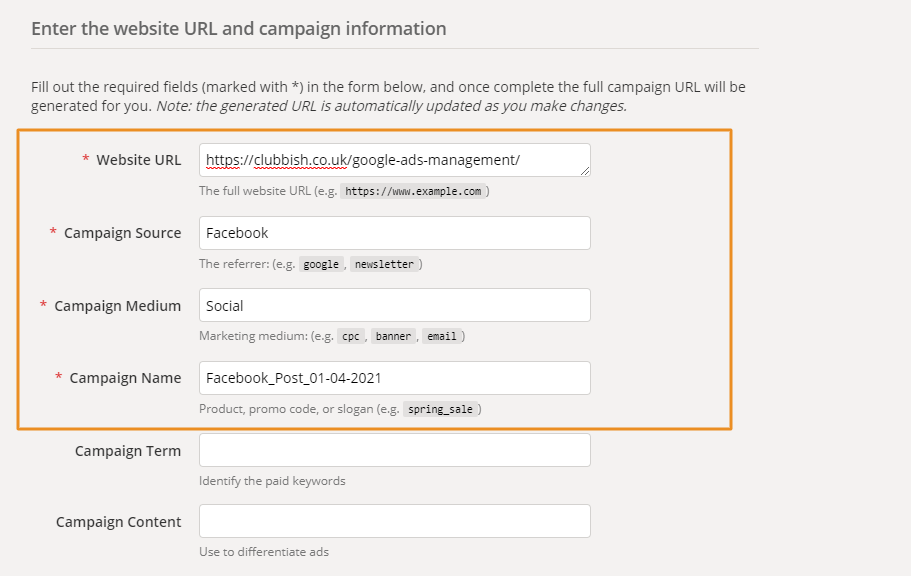 Campaign Source is the source of the traffic. It is where you are posting your content, for example, Facebook or Twitter.
Campaign Medium tells Google what kind of source is generating traffic. For example, for your Facebook links, you track traffic from:
Ad Post: Content you directly post on your site
Pinned Post: A post on your page
Facebook Advertising: A link shared through one of your advertising campaigns
Campaign Name is the text that will show in Google Analytics. Choose an easily identifiable name that best describes your campaign.
As you type, you will notice that a new URL is being auto-generated.
Step 3: Copy the URL and paste it to your ad, social or blog link of your choice instead of using the regular untagged link.
If you have multiple links to tag in your marketing, repeat this process with each.

Pro Tip: The URL with tracking is quite technical and lengthy. So, if for some reason you can put it behind a link or button, it's advisable to use a URL shortener like bit.ly. This way, it can even fit better on channels such as Twitter.
How to View Your URL Campaigns in Google Analytics
After you have given your campaign time to generate traffic, now it's time to view Google Analytics results. To do this, log on to Google Analytics, open the acquisition menu on the left and select campaigns:
If your campaign generated clicks, you should see the number of visits, how long they stayed on your site and how many pages on average they visited.
Can you see how this is game-changing?
You are no longer blinding looking at your analytics, wondering which link generated how many leads. The Google URL builder enables you to track every URL you share in your campaigns, making it easier to understand how your marketing campaigns perform.
Where to See Whether Your Campaigns Are Converting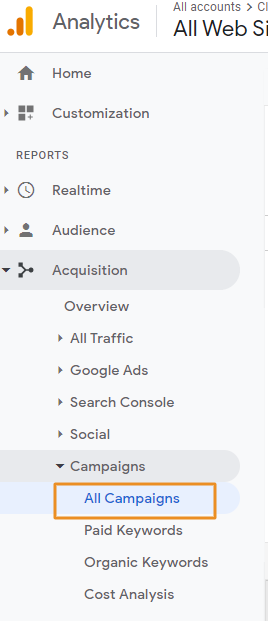 In addition to tracking visits, you can also see goal conversions and bounce rates for each campaign. To do this, simply select the goal conversion you wish to see from the conversion's column.

Top Tips on Campaign URL Builder
Only link things you need to measure
Bookmarking your Google's Campaign Builder makes things much easier
Use a URL shortener if you can't hide the URL behind a button or inside a link.
Avoid using UTM codes on internal links. It brings confusion to the data, resulting in worse reporting
Need help with your Google Ads Conversion Tracking?
If you're not getting the results you expect from your Google Ads conversion tracking strategy or can't achieve profitable ROAS, speak to our Google Ads team by calling 0121 231 015 or click here to Get Quote and we'll call you.