Google Product Listed Ads and How They Work (Google PLAs)
Google Product Listed Ads and How They Work (Google PLAs) – Think about the last time you wanted to buy something for yourself or even a loved one. Upon searching for your desired product on Google, what popped up first? An image of the exact product you wanted, plus the retailer's name, price and probably shipping costs and reviews. And just like that, you had all the information you needed to make your purchase.
Product Listed Ads (PLAs), also known as Shopping Ads, allow merchants to highlight their products when users search for them. These image-based ads operate on a pay-per-click model; therefore, you only pay when a user clicks on your ad.
Google Product Listed Ads and How They Work?
Google product listed ads are product images that appear at the top of the search results page when a potential buyer uses Google to search for a product. These ads typically display product images, titles and descriptions to help the buyer make informed purchase decisions.
If the user likes what they see and clicks on the ad, Google takes them right to the product page to complete their purchase. In return, Google charges the merchant for that click.
How Does Google Product Listed Ads Work
Let's say you sell luxury watches and launch a shopping campaign to boost traffic and sales.
You provide Google with your product information via the product feed.
Someone searches for "Rolex Watch Men" on Google.
Google algorithms select a Men's Rolex watch from your store, crafts a shopping ad for it, and displays it to the potential buyer.
The buyer is impressed by your ad and clicks on it.
The ad takes the buyer to your landing page.
Google charges you for that click.
Why Product Listed Ads Are Beneficial to Your Business
Better qualified leads
Google shopping ads show up when people are actively looking for a solution, so their click-through rates and conversions rates are a lot higher.
Increased visibility
Shopping ads get the premium spot on the search results page, and for a good reason. The shopper's eye is more likely to gravitate towards imagery compared to text.
Competitiveness
Product listing ads position your products right in front of potential customers, giving you a chance to outshine competing brands in the SERPs.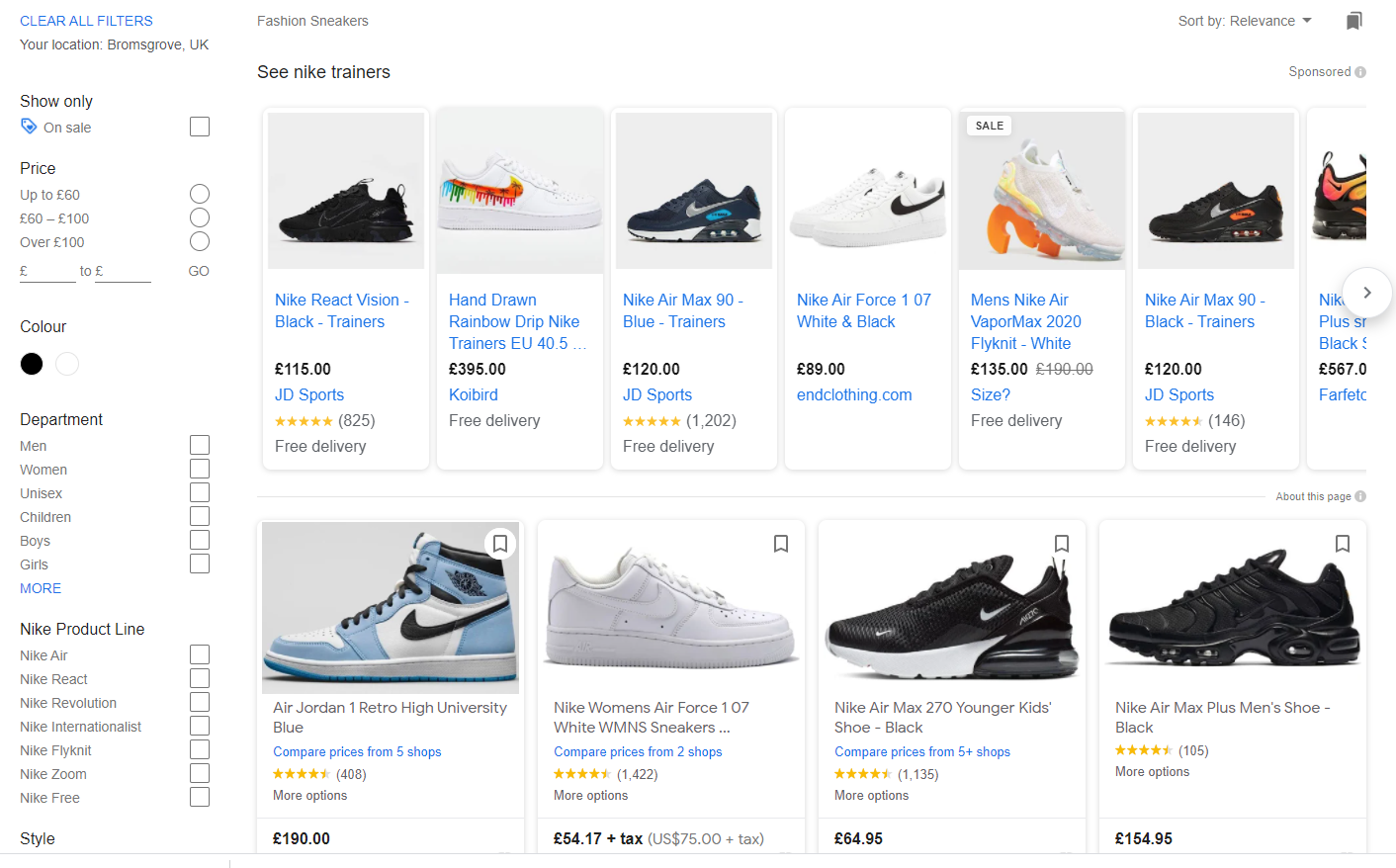 Wondering whether product listed ads are perfect for your business? Here's what you should consider:
Sales volume: If your company sells few products, you may get less visibility from your shopping ads than businesses that sell over 500 items.
Product category: Less competitive categories stand a good chance of getting visibility through PLA ads.
Budget: You will need to bid higher than your competitors to get shopping spots. Therefore, if your budget is already slim, Google shopping ads might not suit your business.
Site quality: Having a high-quality site, mainly your mobile site, is paramount to getting profitable results from your Google shopping campaigns.
How to Get Started with Google PLA Ads In 4 Simple Steps
Set up an account in Google Merchant Centre
Head to the Google Merchant Centre Website and set up an account if you don't already have one.
Verify your store
After successfully creating an account, you will have to claim and verify your store's domain. You can prove to Google that you are the authorised owner using Google Analytics, Google Tag Manager, or adding a meta tag to your site.
Upload your product data feed
Provide detailed and accurate information for your product. Don't forget to upload high-quality images as well.
Set up your PLA advertising in Google Ads
Once your products are uploaded, you can now head to Google Ads to set up a Google Shopping campaign.

To do this:

Click the plus button on the left side of your Google Ads account
Select 'Create new campaign'
Set your advertising preferences.
Need help with your Google Shopping Ads strategy?
If you're not getting the results you expect from your Google shopping ads strategy or can't achieve profitable ROAS, speak to our PPC team by calling 0121 231 015 or click here to Get Quote and we'll call you.