With its popularity in finding landmarks, addresses and directions, it didn't take long before adverts were introduced on the app. In today's life, almost every business owner is familiar with the power of Google Maps and they use it to run adverts, which in turn expands their businesses.
The adverts are simple and with only a few steps, any business owner can get started on marketing their products or services.You may have come across these ads as you drive while trying to find a local business. Considering the impact of technology in our world and how almost every age group is active on the internet, using maps to advertise your business is the best way to attract customers to your business store. Besides, the popularity of online maps while easily direct them to your store.
For those entrepreneurs running location-based businesses like retail stores or restaurants and rely on foot traffic to attract sales, then resident search ads will quickly transform your business. This post will analyse how Google Maps function, how business owners can start their own and the available types of local search ads.
How Google Maps Ads Work
Adverts in Google Maps appear in several ways. However, most of us are familiar with the three main types. They include the promoted pins, in-store promotions and search results ads.
Below is a more detailed explanation of the main adverts and where you can locate them in the Google Maps app.
Search Results Adverts
Just like the name suggests, search results adverts appear on your mobile device when you are searching for a service or business within your local area on Google Maps. The search result will reveal the nearest businesses depending on your physical location, including their ratings.
If a business owner wants their business to appear top on these map results, they will have to pay Google Maps for local search listings for their business to feature on the top.
Such adverts help businesses stand out from their competitors, so they are the first Google map searches results. No matter your business or profession, you are welcome to use the app. Even if you are a local plumber, you can advertise yourself on mobile searches and let everyone in your local area get to know you first before other plumbers.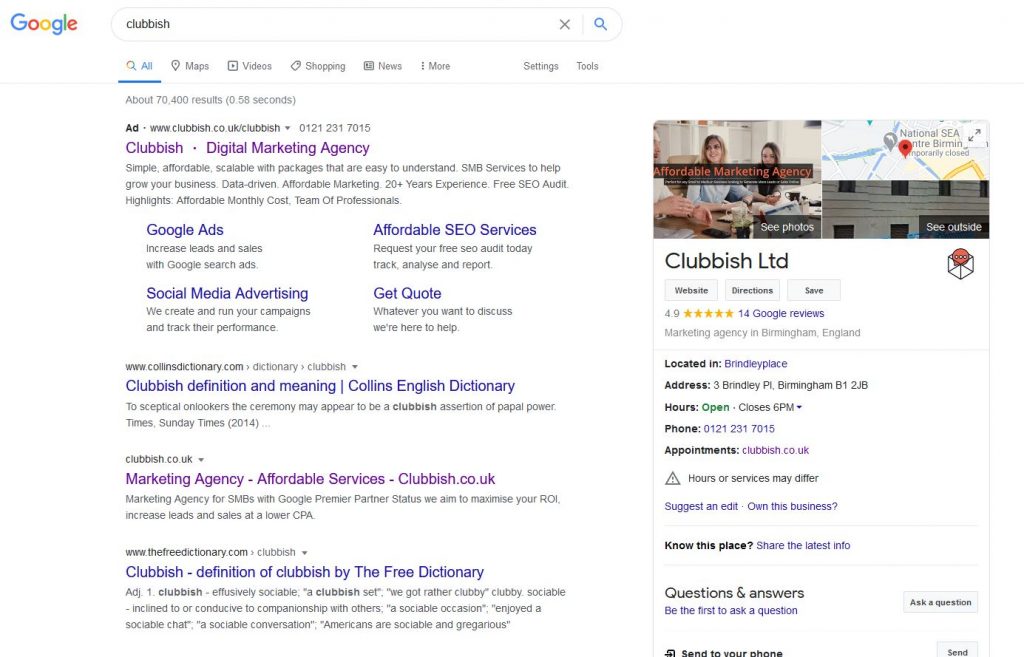 In the foregoing example, the listing is a paid advert, so it appears at the very top of search results concerning dentists in that local area. Besides featuring the top on mobile searches, the advert also features at the top of any desktop search results.
Promoted Pins
Another type of paid advert listing is promoted pins. This type is an excellent way to be noticed by browsers within your local area on Google maps. Contrary to search results ads, promoted pins pop out on maps without the user searching for anything.
It's the best way to get the attention of users who may not be necessarily looking or searching for a service or business but are just walking or driving past your local area. This will result in to increase in visibility and more visits to your store.
Benefits of Advertising on Google Maps
The above screenshots prove that running ads on Google maps is the best way to grow your business by increasing exposure and visibility. However, they are not the only advert strategy that can work in favor of your business. So, the main question is, why choose Google Maps adverts over Google search adverts? Well, several benefits come with running maps ads that cannot be seen on search ads.
The very first and most evident advantage is that map ads will make your business outdo and standout from your competitors. If someone happens to be using Google Maps for directions while driving past your shop or store, they will see a promoted pin that will catch their attention.